Dutch Freedom party leader tells far-right gathering in Prague Europe should also turn back migrant boats like Australia.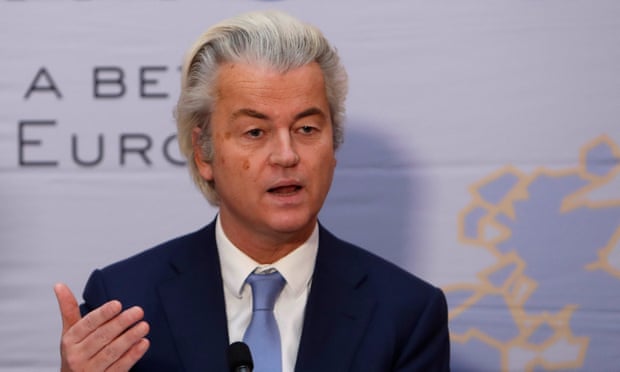 European countries should adopt Donald Trump-style travel bans to counter a wave of Islamisation supposedly sweeping the continent, the Dutch anti-immigrant politician Geert Wilders has said.
Wilders, the leader of the Netherlands' Freedom party (PVV), made his comments at a gathering of far-right leaders in Prague. He also urged Europe to adopt Australia's tactics in turning back migrant boats and to build new border walls, as Trump has vowed to do along the US frontier with Mexico.
Wilders was flanked during his press conference by France's Front National leader, Marine Le Pen, and Tomio Okamura, the leader of the Czech Freedom and Direct Democracy party (SPD), which finished joint third in recent parliamentary election with nearly 11% of the vote.
Security was tight at the press event, held at a hotel just off Wenceslas Square, apparently in recognition of death threats against Wilders in response to his fierce denunciations of Islam.
Wilders, who was convicted last year by a Dutch court for incitement against Moroccans, cited US research he claimed showed that the Czech Republic would be bordered to the north, south and west by countries that were more than 20% Muslim by the middle of the century if current demographic trends continued.
[…]