A leading Indian software entrepreneur says Indian companies must accept President Donald Trump's pro-American policies and must start hiring Americans instead of sending Indian white-collar H-1B visa workers into American job sites.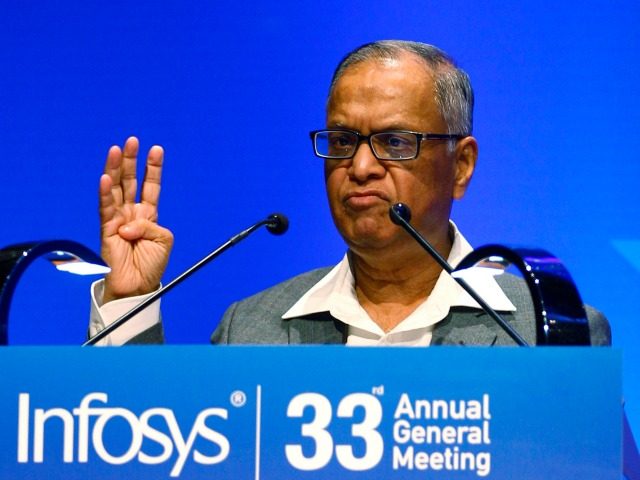 The startling Feb. 2 recommendation came from N.R. Narayana Murthy, the president and co-founder of the most-criticized H-1B outsourcing firm, Infosys Limited, which has asked for more than 100,000 work visas since 2013. The company uses the visas to send their lower-wage Indian employees to work in U.S. banks, manufacturers and service companies throughout the United States.
"We should stop using H-1B visas and [stop] sending a large number of Indians to those countries to deliver services," he said in an interview on an Indian affiliate of Microsoft's MSN network.
We have to recruit from colleges there, we have to train those local people [to work with] Indian companies … it is great opportunity for Indian companies to become more and more multicultural.
Murthy's televised concession appears as Indian and American companies rally to stop Trump from implementing his campaign promise to reform the H-1B outsourcing visa program.
Roughly 650,000 foreign H-1B workers are employed in a wide variety of white-collar jobs in the United States, including roughly 100,000 as academics, teachers, doctors, therapists, scientists, and designers at American universities. Overall, roughly 1 million foreign college-grads are employed as contract workers in the United States, even as 800,000 Americans graduate from college each year with skilled degrees to compete for well-paying jobs.
[…]