Adios America: The Left's Plan To Turn Our Country Into A Third World Hellhole by Ann Coulter
Adios America! Ann Coulter Says The Left Is Turning USA Into a Hellhole (Video)
Recent News:
| | |
| --- | --- |
| | |
| The publisher P. F. Collier and Son loved the idea and asked Eliot to assemble the right collection of works. The result was a 51-volume series published in 1909 called Dr. Eliot's Five Foot Shelf. Later it would simply be called The Harvard Classics. | Welcome to Forgotten Books, the world's largest online library with over 1,000,000 books available on demand. This website has been designed using the very latest technologies to provide our members with many features never seen before. |
Events
Wednesday, February 22, 2017 – Saturday, February 25, 2017, Gaylord National Resort & Convention Center.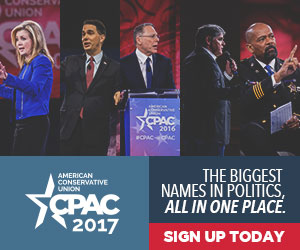 Click here for more information.
Website of the Week
Chuck Norris is an international television and film star and has starred in 23 motion pictures such as Delta Force, Code of Silence and Missing in Action, just to name a few. His television series "Walker, Texas Ranger", ran for 81/2 years. With 203 episodes, is the most successful Saturday night series on CBS since "Gunsmoke". Internationally, it is seen in more than 80 countries worldwide with an average of 1 billion viewers daily.
Norris first made his mark as a renowned teacher of martial arts and was a six-time undefeated World Professional Middle Weight Karate Champion. He is the first man from the Western Hemisphere in the over 4,500 year tradition of Tae Kwon Do to be awarded an eighth degree Black Belt Grand Master ranking. By the 1970's he had revolutionized Martial Arts in the U.S. and created his own system called Chun Kuk Do (meaning "The Universal Way") and is the Founder and Chairman of the United Fighting Arts Federation.
Chuck Norris is also a New York Times bestselling author of three books. They include Black Belt Patriotism: How to Reawaken America, and the 2004 autobiographical Against All Odds. Norris has also penned two works of fiction, "The Justice Riders" and "A Threat to Justice." In 2006, he added "columnist" to his list of credits with the launch of his popular internet column on the independent news site WorldNetDaily.com. His weekly column is now widely syndicated and carried by Human Events and Townhall, among other outlets.
[…]
Chuck Norris Official Website.
---
"The beauty of independence, departure, actions that rely on themselves." ~ Walt Whitman