Border Patrol agents in Los Angeles arrested seven foreign nationals believed to be associated with a "cross –border narcotics smuggling organization." The arrests follow a prior bust in April where officials seized 33 pounds of cocaine and $630,000 in cash.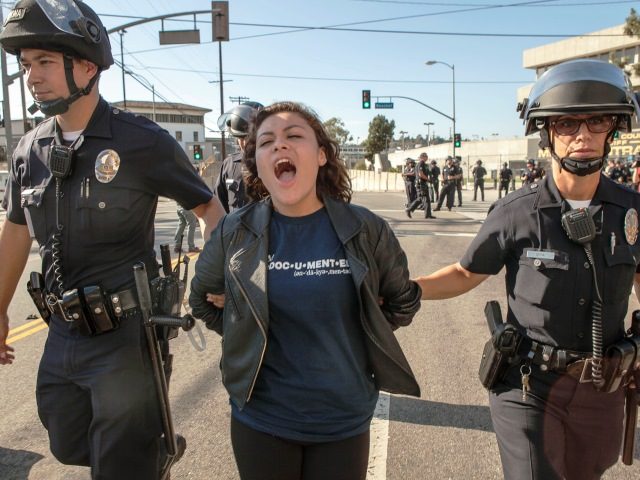 Border Patrol agents arrested Claudia Rueda-Vidal, 22, on an immigration violation. Authorities stated she is illegally residing in the U.S. in violation of the terms of her visa, according to information provided to Breitbart Texas by U.S. Customs and Border Protection (CBP) spokesman Mark Endicott. Rueda-Vidal is the daughter of Teresa Vidal-Jaime and Hugo Rueda. Law enforcement officials arrested the couple on April 24 during a raid where police say large amounts of drugs and cash were discovered.
Following the arrest of her parents in April, Rueda-Vidal appeared at a protest, joining other activist rebelling against immigration enforcement by the Trump Administration, the Los Angeles Times reported. After Vidal-Javier gave investigators permission to search her apartment, officials found $600,000 in cash and one ounce of crystal methamphetamine.
One of the protest organizers, Marcela Hernandez, told the West Coast newspaper that Vidal-Jaime "didn't know anything about anything in the apartment. She let them in."
Vidal-Jaime and her daughter illegally entered the U.S. in 2001, officials reported. Rueda-Vidal is reportedly attending classes at Cal State Los Angeles. "I know my mother is innocent, and both [the Sheriff's Department and Border Patrol] know that, which is why they were supposed to let her go," she said in an April statement. Rueda-Vidal is also known to be an immigration activist. The photo above shows her 2012 arrest by Los Angeles police during a protest over the Secure Communities immigration program. That program worked to help remove criminal aliens from jails and turn them over to immigration officials for deportation.
[…]