Gunmen acting under orders of a ruthless cartel executed one of Mexico's star witnesses who played a key role in the prosecution of top capos in Mexico, including the leader of Los Zetas.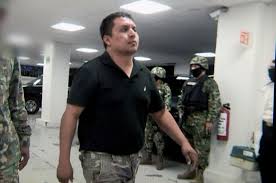 While authorities tried to downplay the May 29 shooting where three men having lunch died at a shopping plaza near Mexico City, that country's Proceso Magazine has identified one of the victims as a protected witness known to authorities by the name "Karen."
The murder serves as another example of the overwhelming power of the criminal organization that remains one of the most ruthless and powerful syndicates in Mexico and continues to reach deep into the United States far beyond the border cities.
Karen is the name given to a former Zeta hitman who had been testifying about having worked with former top Zeta boss Miguel Angel "Z-40 o El 40, L40" Trevino Morales in the early 2000s which is a time when Los Zetas were still part of the Gulf Cartel and initially set their control over the border city of Nuevo Laredo.
While Trevino Morales is often called Z-40 by news outlets, in the early days of Los Zetas, Trevino was known as an L, Lobo, or Cobra because he was not one of the original military deserters that made up Los Zetas.
[…]