An associate producer for NBCUniversal, Inc. declared that the illegal alien "hoping to assassinate Donald Trump is a good guy with a gun" on Twitter Tuesday.
"It could be argued that the dude who was hoping to assassinate Donald Trump is a good guy with a gun," he tweeted from Los Angeles at 11:21 P.M. Tuesday.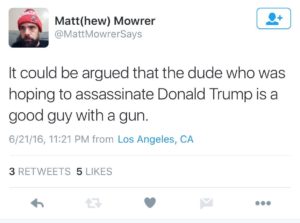 Matthew Mowrer — whose account is now private — was alluding to the illegal alien from the United Kingdom who told authorities he tried to grab a cop's gun to shoot Trump at a Las Vegas rally.
Michael Steven Sanford, 19, had overstayed his visa and was living out of his car, according to his court-appointed attorney. He was arrested after grabbing an officer's gun and trying to pull it from its holster. He told investigators he was convinced he would die while trying to kill Trump. Sanford also told authorities he went to Battlefield Vegas shooting range to practice firing a weapon, shooting 20 rounds from a 9mm Glock pistol, which a range employee confirmed.
Leftists have rioted during Trump rallies and viciously attacked Trump supporters, even women, and this is not the first time someone has tried to harm Trump at a rally. Rioters have also called for violence at Trump rallies because American Trump supporters are "heartless racists" whose political beliefs make them fair game for physical assault.
[…]