The Junípero Serra statue that stands at the base of the staircase leading into the Old Santa Barbara Mission was beheaded and defaced with bright red paint in the early morning hours of this past Monday.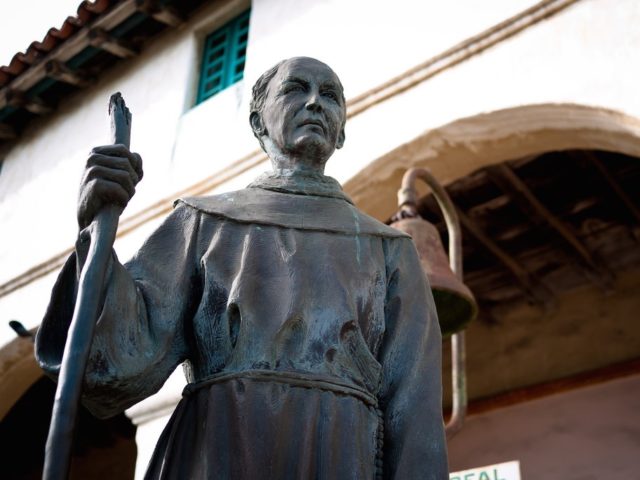 It was the second attack on a Junipero Serra statue since the movement to remove, destroy or deface any public image of the Confederacy began. In August, a statue of Serra in Mission Hills was covered in red paint and the word "Murder" written in white down the saint's cassock.
According to the Los Angeles Times,
This week … workers were forced to remove the statue of the controversial figure after someone poured red paint over the sculpture and cut off its head.

"I think people forget the friars do live here," said Monica Orozco, the mission's executive director. "Anytime something like this happens to anyone's home it's difficult for people."

The vandalism, which occurred between midnight and 6 a.m. Monday, has triggered an investigation, said Sgt. Joshua Morton, spokesman for Santa Barbara Police Department. No arrests have been made.

Employees are reexamining security measures for the 13-acre property, which is home to 20 friars and houses the Franciscan School of Theology, Orozco said. It also serves as a historical museum, mausoleum and event space.
[…]