While the elites make excuses, citizens cope with theft and destruction. In short, all the stuff of civilization — municipal buildings, education, religion, transportation, recreation — seems under assault in the last year by the contemporary forces of barbarism.
[Note: This article was originally posted in December 2011. The IFNM website was attacked by hackers and many articles are now gone from the archives. As a public service, IFNM is now reposting said articles.]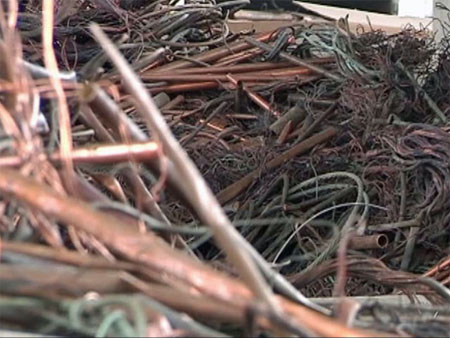 I am starting to feel as if I am living in a Vandal state, perhaps on the frontier near Carthage around a.d. 530, or in a beleaguered Rome in 455. Here are some updates from the rural area surrounding my farm, taken from about a 30-mile radius. In this take, I am not so much interested in chronicling the flotsam and jetsam as in fathoming whether there is some ideology that drives it.
Last week an ancestral rural school near the Kings River had its large bronze bell stolen. I think it dated from 1911. I have driven by it about 100 times in the 42 years since I got my first license. The bell had endured all those years. Where it is now I don't know. Does someone just cut up a beautifully crafted bell in some chop yard in rural Fresno County, without a worry about who forged it or why — or why others for a century until now enjoyed its presence?
The city of Fresno is now under siege. Hundreds of street lights are out, their copper wire stripped away. In desperation, workers are now cementing the bases of all the poles — as if the original steel access doors were not necessary to service the wiring. How sad the synergy! Since darkness begets crime, the thieves achieve a twofer: The more copper they steal, the easier under cover of spreading night it is to steal more. Yet do thieves themselves at home with their wives and children not sometimes appreciate light in the darkness? Do they vandalize the street lights in front of their own homes?
In a small town two miles away, the thefts now sound like something out of Edward Gibbon's bleaker chapters — or maybe George Miller's Road Warrior, or the Hughes brothers' more recent The Book of Eli. Hundreds of bronze commemorative plaques were ripped off my town's public buildings (and with them all record of our ancestors' public-spiritedness). I guess that is our version of Trotskyization.
[…]