Rehan "Ray" Zuberi, 45, of Boonton Township, the owner of Diagnostic Imaging Affiliates (DIA) of Hackensack and the alleged leader of the criminal enterprise was arrested Tuesday (June 17). Zuberi's bail was set at $1 million by Superior Court Judge Stuart A. Minkowitz in Morris County.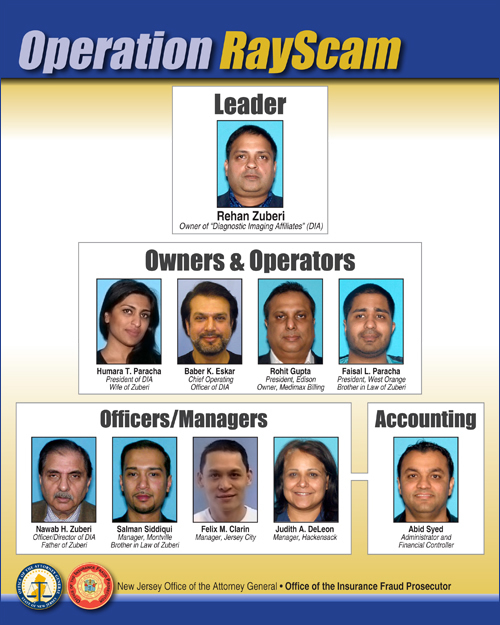 Acting Attorney General John J. Hoffman announced that the Office of the Insurance Fraud Prosecutor, Medicaid Fraud Control Unit, arrested the owner of a network of diagnostic imaging centers for his alleged role as the leader of a criminal enterprise that provided hundreds of thousands of dollars in illegal kickbacks to medical practitioners in exchange for patient referrals to his testing facilities. In addition, the defendants allegedly submitted fraudulent applications to the New Jersey Medicaid program and Department of Health, and evaded paying income and franchise taxes, among other illegal activities. The enterprise allegedly generated millions of dollars in illegal profits. Twelve others were also charged in the alleged scheme.
[…]
DIA, which is owned by Zuberi and used to manage his enterprise, is an umbrella corporation that manages numerous subsidiary diagnostic imaging facilities, which are located in northern and central New Jersey. More than a dozen search warrants were executed Tuesday morning at locations that included 10 DIA-owned facilities, the offices of DIA's billing company and three homes. A complete list of search warrant locations can be found at the end of this press release.
[…]