Ilana Mercer praises Trump for beginning 'a vital process of expiation'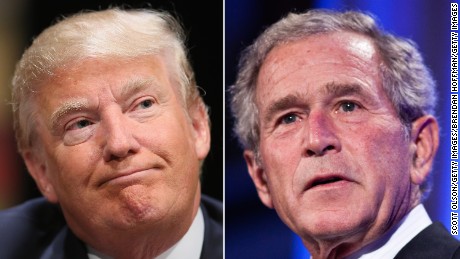 Making America great again, the theme of Donald Trump's 2016 campaign, depends on dispelling the myths and myth-making that made America bad.
Beginning with George W. Bush.
Said Saint Augustine: "The confession of evil works is the first beginning of good works."
The Republican Party under Bush did the devil's work. Bar the sainted Ron Paul, not a dog of a Republican lifted his leg in protest of the unjust war on Iraq.
To embark on the good, the GOP must come clean about the bad. To that end, Donald Trump has begun a vital process of expiation.
The 43rd president is categorized as "bad" and ranked 37th by Ivan Eland, author of "Recarving Rushmore: Ranking the Presidents on Peace, Prosperity, and Liberty." Having undermined the republic at home and peace abroad, "Bush's presidency," avers Eland, "was one of the worst of all time."
Coming to terms with the Bush legacy, moreover, ought to prevent the rise of another Bush. For the bogus Bush Doctrine is alive and well – exploited in the words and promises of each of the Republican candidates, other than Donald Trump.
[…]