You know you've been waiting for this: Mark Steyn sings Ted Nugent!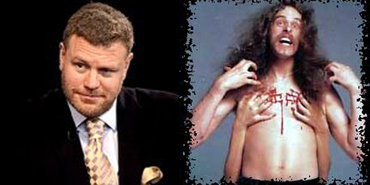 We always like to have a few Halloween horrors around this time of year: our Song of the Week this week is "Witchcraft", and our movie date is Wolf. But for our Halloween audio special Mark thought he'd sing something extra scary.
As you know, his new book is The [Un]documented Mark Steyn. It's published by Regnery. So Mark thought it might be fun to sing something by a fellow Regnery author. He riffled through The Dinesh D'Souza Songbook and the score for Newt Gingrich's unproduced Broadway musical, but came up empty. So he went instead with a song by Ted Nugent, author of the Regnery bestsellers Ted, White And Blue and Kill It And Grill It. Click above to hear Mark's take on Ted's hard rockin' classic, "Cat Scratch Fever".
[…]