Two Identitarians scaled the famous Burgtheater in Vienna to hang a banner protesting the performance of a pro-migrant play, and Breitbart London has the first sneak-peek at the incredible footage they recorded from the stunt.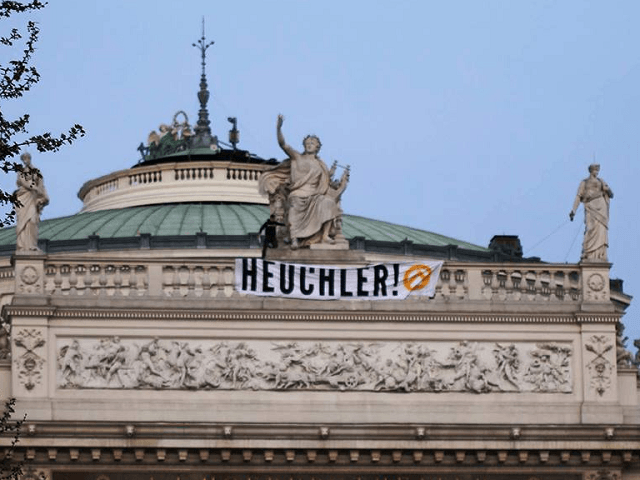 Two activists of the 'hipster right-wing' Identitarian movement in Austria made a daring protest against the national theatre in Vienna. The Burgtheater had put on a production of the controversial pro-migrant play "Die Schutzbefohlenen" on Wednesday night.
The Identitarians had previously interrupted a performance of the play being performed at the University of Vienna where they stormed the stage and called the play goers hypocrites who they say celebrate the migrant crisis.
In the voice-over for the new English-language film, Austrian Identitarian leader Martin Sellner explains: "After our protest against the refugees-welcome play at our university the leftist president of the national assembly, Mrs Bures, invited them into the famous Burg-theater, to repeat it under her 'honorary protection'.
"A few days later a 21 year old Student was brutally raped by 3 refugees in Vienna. You Hypocrites!"
[…]